If you have employees driving on behalf of your company, this creates risk, such as rising insurance premiums, negligent entrustment liability, and pricey lawsuits. At Good Egg, we recommend a three-prong background check solution to mitigate these risks.
An important note before we get started: For the purpose of this article, we're referring to "non-regulated" drivers. In some instances, these people only drive "casually" on behalf of your company.
For example, you ask your administrative assistant to pick up an order at Staples during the course of their workday. Or consider the employees who drive company vehicles that are not regulated by the Department of Transportation due to the weight category of the vehicle. Think salespeople, local delivery drivers, service technicians, and contractors.
Here are the three background checks that will help mitigate risk for these non-regulated drivers. (You can learn more about our screening approach for DOT regulated drivers here.)
1. MVR checks and MVR monitoring
The MVR background check sets the baseline. During this initial MVR screen, we're looking for problematic driving behavior from a person's past because this past experience could be a predictor of future behavior.
Typically, if companies see a lot of bad driving behavior on a person's motor vehicle report, they'll likely think twice about hiring that individual.
But what if a person's MVR check is fine and you decide to hire them? What happens then? A person could pass an initial MVR screen but get a DUI three months later. Wouldn't you want to know about the DUI? Or that a person's license status has changed from valid to suspended or revoked? Don't count on the employee to be forthcoming with these details when they know their job is at stake.
Instead, opt for a smart strategy: MVR monitoring. This background check solution monitors a person's driving record on a go-forward basis. You're notified when something changes on the person's record so that you can determine next steps for the employee and your company.
Want to know more about MVR background checks? Below is a good list of articles:
2. Pre-employment drug tests that include a panel for synthetic opiates
The National Institute on Drug Abuse says, "The misuse of and addiction to opioids—including prescription pain relievers, heroin, and synthetic opioids such as fentanyl—is a serious national crisis that affects public health as well as social and economic welfare."

[Source: DrugAbuse.org]
At Good Egg, we recommend pre-employment drug testing whenever possible and legal (more on this below). We further recommend that you include synthetic opiates in your drug panel for anyone who might be driving on behalf of your company.
A couple of important notes:
Drug testing is regulated at the state and local levels, so you have to make sure the location where you're hiring employees allows pre-employment drug testing. This can be particularly challenging if you have locations across several jurisdictions, especially since some cities and states where you operate might allow pre-employment drug testing (with or without limitation) while others won't. You need to make sure your drug testing policy is clear AND compliant. Hint: A reputable vendor like Good Egg can guide you.
Make sure that the drug test is reviewed by a medical review officer (MRO). There are cases where people will have legitimate prescriptions for synthetic opiates. The MRO will adjudicate that process and deem it accordingly.
In addition to creating a policy for synthetic opiates, employers also need to consider marijuana—and all its complexities, given the legalization of medicinal and recreational weed in various states.
3. Social media background checks
A lot of our clients are deploying social media screening as a way to assess a person's fit with their organization. At Good Egg, we've adapted social media screening to now look for risky driving behavior in people's social media profiles in addition to other problematic behaviors, like illicit drug use.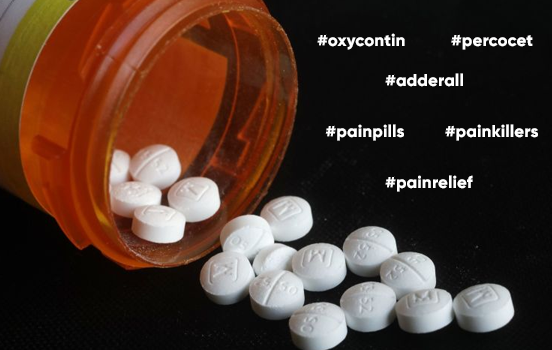 We know what you're thinking: "Do people really talk about such scandalous things publicly?" The short answer is yes. In fact, The Los Angeles Times reported the following in 2018: "Recent searches on Instagram, which is owned by Facebook Inc., for hashtags of the names of drugs — such as #oxy, #percocet, #painkillers, #painpills, #oxycontin, #adderall and #painrelief — revealed thousands of posts by a mash-up of people grappling with addiction, bragging about their party-going lifestyle and enticements from drug dealers."
Good Egg's social media background check solution can uncover references to drunk driving and/or excessive drug use that may not come up on a drug test or MVR screen (because it happened in the past or the person wasn't caught). So this is another effective way of initially screening a non-regulated driver. (Download our free guide to learn more about social media background checks.)
Bottom line: when it comes to non-regulated drivers, don't chance it!
Ignorance is not bliss in this case! Have a background check solution in place that screens for problematic behaviors that could affect a person's ability to make smart decisions behind the wheel.
Not sure where to begin?


---