When it comes to evaluating drug testing providers, follow these three important reminders. (You can also download our comprehensive guide on how to choose an employee screening vendor.)
1. Scratch the surface (don't be shy).
Just because a company says it can do drug testing, that doesn't necessarily mean it has the expertise and experience do it right.
Anyone can say they "offer" drug tests, but you should choose a vendor that focuses on drug testing. The vendor's website should make it clear that drug testing is a core part of its business. Ongoing discussions with the sales rep should confirm this as well.
To further evaluate the vendor's expertise, ask probing questions, such as the following:
Keep in mind that some screening companies might say they can do drug testing, and they'd be correct in that they can get a test done for you. But the problem with many of these companies is they often lack legal expertise and/or experience in setting up compliant programs. Get these things wrong, and your organization could face costly litigation—and the brand damage that goes along with it.
So, choose a vendor that sees drug testing as more than a simple transaction. The best vendors want to collaborate with you and help you optimize your organization's program.
2. Don't underestimate the power of scale.
You might think working with a smaller, local vendor will provide that personal touch. But the problem with smaller vendors is they don't typically have modern systems and efficient workflows that help reduce time-to-hire. And isn't that your ultimate goal? You want to get the drug screenings done accurately, compliantly, and quickly so you can fill empty seats with good people.
Modern systems with robust automation help make this a reality. You and your applicants/employees shouldn't be dealing with paper! Because of the tight labor market, good candidates (especially Millennials) can and will walk away if the process is difficult and inefficient—or if they don't have easy access to collection sites.
While most large providers will have electronic platforms, the same isn't true for smaller local players or collection sites. And smaller vendors won't have the strong national network of collection sites and labs available, either.
3. Demand great customer service.
Employee screening, particularly drug testing, is a critical component to maintaining a safe and productive workforce . It's also a complex component with many moving parts. You will have questions and need help. This is where customer service comes into play.
What you don't need: a customer service merry-go-round where you interact with different people every time you call or email (and that's provided they even return your calls or emails in the first place).
What you do need: a dedicated account manager who acts as a true member of your team and who knows your business and its hiring objectives and challenges. This person will be responsive to your emails and calls. This customer service representative will also be proactive—calling you first to check in, provide updates, and offer strategies for making the screening process even more efficient.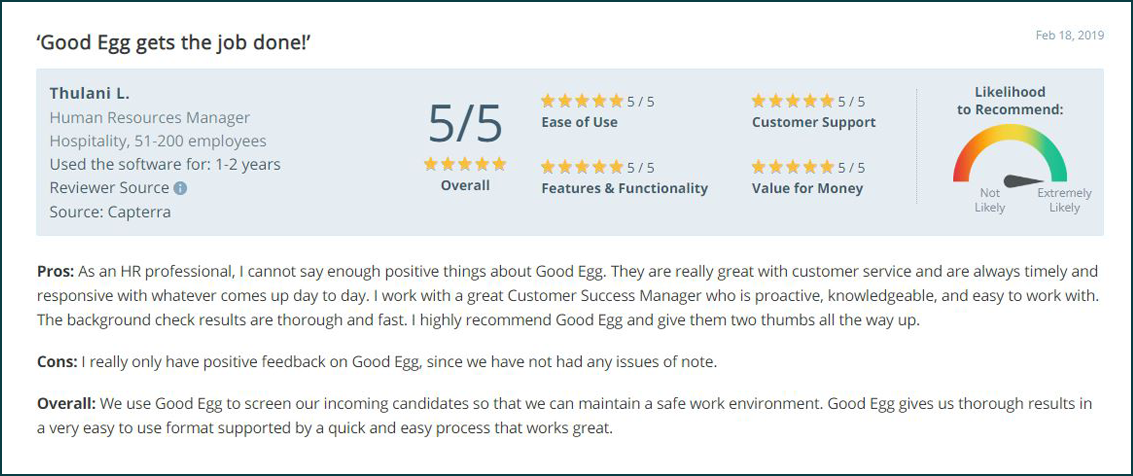 Most importantly, your customer service team should be supported by internal expertise (a Medical Review Officer, or MRO) that will help handle and navigate positive results, including when a positive result isn't really a positive (but rather a non-negative).
Finding that "perfect" vendor who offers expertise, excellent customer service, and modern screenings and technology is NOT easy. (But at Good Egg, we like to think we're one of them!) Don't give up, and never settle. You might think the customer service aspect isn't important and that you can live with the status quo. But you'll be kicking yourself when you need an answer fast, and all you have is an 800 number that dumps you into a general mailbox or bogs you down in directory hell.
Want a better way?
Request a demo with us and experience the Good Egg difference.