We've written a lot about motor vehicle record (MVR) checks. If you want to read deeply about various aspects of MVRs, check out the following...
Otherwise, keep on reading below for a quick recap of salient points before getting into today's topic: why you should use Good Egg for your company's MVR monitoring.
What is an MVR background check?
Simply put, an MVR background check is a report of a person's driving history. It includes information, such as license expiration, status, license class, endorsements, restrictions, traffic violations, accidents, vehicular crimes, suspensions—even unpaid parking tickets and, in some states, unpaid child support.
What is MVR monitoring?
Once we establish a baseline with an MVR background check, we can conduct MVR monitoring on a go-forward basis. Essentially, MVR monitoring watches for any changes to an individual's motor vehicle record. If you have people driving on behalf of your company, MVR monitoring is a cost-effective way to reduce liability.
Why should people use Good Egg for MVR monitoring instead of one of our competitors?
The truth is that all MVR monitoring products are essentially the same thing. So why should you use Good Egg for your MVR monitoring as opposed to one of our competitors?
Here are three reasons why . . .
1. We treat MVR monitoring as part of a larger overall employee screening strategy.
Some companies just specialize in MVR checks and monitoring (meaning that's all they do). At Good Egg, we focus on the entire landscape of pre-employment background checks and post-hire background checks and ongoing monitoring.
This makes for a much more efficient hiring process since you order all your background checks from the same place. Plus, with Good Egg, you have one dedicated account manager who handles everything for you and gets to know your business and the positions you're hiring for.
Different positions across different industries typically involve a different combination of background checks, and at Good Egg, we can create one streamlined package to meet those needs (while delivering the six-star customer service that we're quickly becoming famous for).
Keeping all of your "screens"—from MVR checks to criminal history checks to social media background checks—with the same background check company makes a lot of sense. And using Good Egg in particular makes even more sense.
2. We have the compliance expertise to keep your organization compliant.
MVR compliance is complicated since motor vehicle records are regulated at the state level. If you have employees who are driving in multiple different states, it can be challenging for someone without compliance expertise to ensure that you're using the proper authorizations and disclosures. For example, Pennsylvania is different from New Jersey, which is different from New York, even though they're all right next to each other.
MVR reports can be challenging to interpret as well. The American Association of Motor Vehicle Administrators (AAMVA) has created the AAMVA Code Dictionary (ACD), which is "a set of codes used nationwide to identify the type of driver conviction or the reason for a driver withdrawal."
There are literally hundreds of codes. This is why it's essential to work with a reputable background check vendor like Good Egg. We not only facilitate the MVR background checks and ongoing monitoring, but also interpret the results.
We also have a deep understanding of DOT requirements (the subject of which could be a whole blog post of its own). Bottom line: MVR monitoring alone does NOT meet the DOT requirements for annual MVR rescreens of drivers.
Again, when you work with Good Egg, you don't need to worry about all these things because we do the worrying and legwork for you! We have the necessary compliance expertise in-house. This compliance expertise helps keep your company compliant (and not just in the area of MVR monitoring; all of our background check solutions comply with federal, state, and local laws).
3. We deliver exceptional customer service.
We can't stress this point enough. Do you want a vendor who treats background checks as a product that you simply "buy" like a transaction you make on Amazon?
Or do you want a true partner—one who understands your business, the different roles you're hiring for, and—as a result—the different types of background check packages you need in order to create a safer, more productive workforce?
If you said the latter, then seriously consider Good Egg.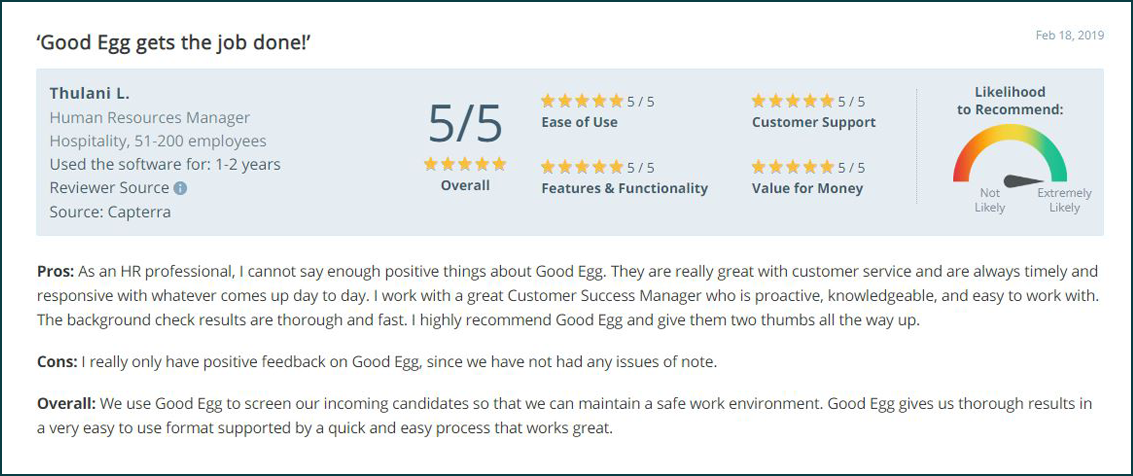 Our customer service team is dedicated to your success. We help HR departments shine, and we love making the background check experience easy for candidates and employees alike:
The best way to experience the Good Egg difference is by requesting a demo.

Get started today!