Let's face it: the U.S. labor market remains incredibly competitive, thanks to a low unemployment rate. As a result, recruiting quality workers has become increasingly challenging. CNN reported in 2018 that the job market was so good that some candidates weren't even showing up for scheduled interviews—or their first day of work.
Because it's a job-seeker's market, HR's job has gotten a whole lot tougher. Any edge can make a huge difference. One smart way to gain a competitive advantage involves engaging job candidates where they already are—that is, on their phones.
This means using text messaging throughout the hiring workflow, including the background check process and the post background check process (because candidates can view their completed background checks on their phones via the invite link in the text).
Text messaging speeds up the process of hiring and onboarding new hires before they take another job and you've lost out on a talented employee. Considering so many job seekers are often entertaining multiple job offers at once, this old chestnut remains relevant: "the early bird gets the worm."
Because of all this, Good Egg launched candidate text messaging last year. Here are five compelling reasons why Good Egg's solution makes a whole lot of sense.
1. Millennials and Gen Z prefer texting in general.
No doubt, you're already hiring millennials—and soon you'll be hiring more and more people from the Gen Z demographic as well (those born between 1997 and 2012). Recruiting.com reports that applicants between the ages of 18-44 prefer texting as their means of communication. So including texting as an option in your background check process is a smart strategy.
2. More and more job candidates use their smartphones to look for and apply to jobs.
According to Recruiting.com, "43 percent of smartphone owners have used their devices to look up information about a job and 18 percent to submit a job application. If you're not providing an end-to-end mobile recruiting experience you're losing out on prospective candidates."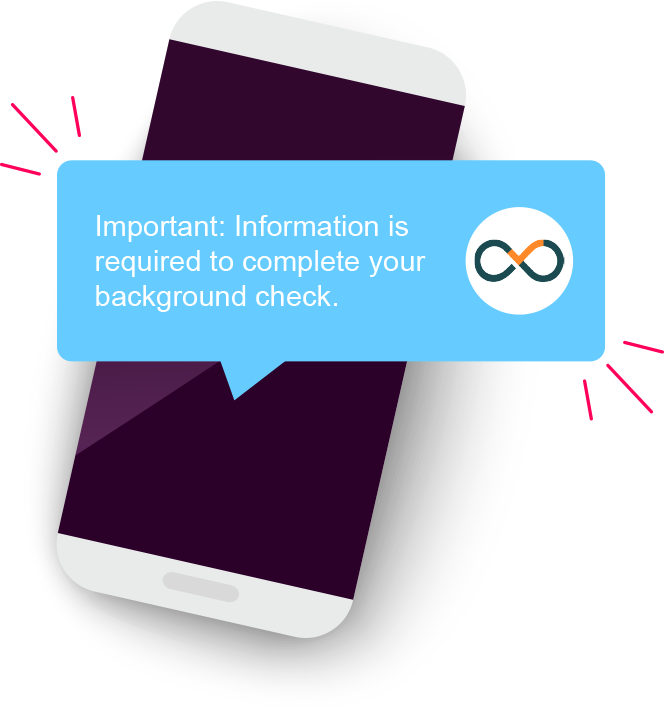 3. Background checks get completed faster.
Good Egg background checks that are initiated via text complete 76% faster than email. It takes a candidate 14 hours to start the background check via text message as opposed to 31 hours via email.
4. Drug testing gets completed faster.
Good Egg drug testing and occupational health screens are completed 14.5% faster when communicating with candidates via text message.
5. Verifications get completed faster.
One of the biggest challenges in the background check industry is the timing it takes to verify prior employment and references. Texting has reduced the number of "unable to verify" situations and dramatically lowered the amount of time it takes to fulfill them since people are much more inclined to answer texts right away. By contacting references via text message, Good Egg has been able to decrease the time it takes to complete verifications by 13%.
So the question isn't why you should use Good Egg candidate text messaging. The question should be why wouldn't you use it?
Interested in learning more about candidate text messaging and other ways Good Egg can streamline your hiring workflows?