At the writing of this article, 33 states in the United States and the District of Columbia have legalized the use of marijuana either for medicinal or recreational purposes (or both). Other jurisdictions at the municipal level are also legalizing marijuana.
Yet the federal government still classifies marijuana as a Schedule I drug, which means it is illegal at the federal level. So use or possession of marijuana on federal property remains illegal, even in states where recreational or medicinal use of cannabis is legal.
As you can imagine, the ever-changing cannabis laws can cause headaches for many, especially employers. One area that's particularly problematic is each state's employment laws regarding how employers can and can't address job candidates and employees who test positive for marijuana.
Employment Protection and Medical Marijuana
Simply put, some states prohibit an employer from refusing employment or taking adverse action based upon an individual's status as a medicinal marijuana recipient or user of medicinal marijuana.
In other words, in states where this employment protection applies, employers can't not hire or fire someone because they use medical marijuana and/or test positive for marijuana on a drug test (note: there are exceptions for employers with federal contracts or funding that are subject to federal regulations).
Currently, twelve states and the District of Columbia provide employment protection for people who use medical marijuana.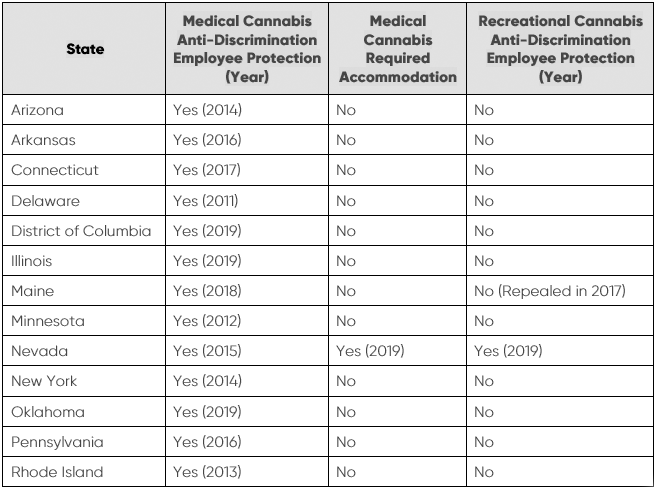 [Source: National Conference of State Legislatures]
Employment Protections and Recreational Marijuana
Employment protections for recreational marijuana potentially exist in several states. The challenge involves that pesky word "potentially," meaning some laws are unclear or silent on the issue—at least, for now. But as more and more states legalize weed, they'll likely clarify their position regarding this important point (or the courts will settle it).
Consider the following example. SHRM reports these updates for 2020: "On Jan. 1, a Nevada law took effect barring employers from considering a pre-employment marijuana test result, and beginning May 10, a New York City law will prohibit employers from conducting pre-employment marijuana tests. Both laws have exceptions for safety-sensitive positions and jobs regulated by federal programs that require drug testing."
Laws can also change in the other direction. For example, the National Conference of State Legislatures (NCSL) reports, "In 2016, Maine voters passed an initiative permitting the recreational use, retail sale and taxation of cannabis by popular vote. The initiative included an employment anti-discrimination provision for recreational users as well. Maine's General Assembly repealed this statute through legislation in 2017."
Is your head spinning?
The NCSL goes on to note that "Wisconsin is considering AB 220 which would legalize recreational cannabis and includes employment protections for the lawful use of cannabis" and Massachusetts is considering the elimination of workplace drug testing for cannabis altogether. Not to mention plenty of other states will continue to make noise regarding changes to their laws.
Is your head spinning now? It should be.
How Employers Should Approach Employment Protection in the Age of Legal Weed
1. Understand the laws in each state you operate in and develop your drug and alcohol policy accordingly.
When developing your drug testing policy, employers must thoroughly understand the laws in each state they operate in regarding employment protection and the use of medicinal marijuana and/or recreational marijuana.
Keep in mind that some states have clearly defined employment protections and others don't. The latter can prove problematic when developing your policy. For those states that don't have clearly defined employment protections, you have to look to case law in order to determine what the right policy is for your company. Also keep in mind that the categories of exempt employers can vary under each state's statutory exceptions.
2. Make sure you have a clear and comprehensive policy regarding marijuana impairment—and that you train employees and managers about what this means.
Employment protection doesn't mean employees can be impaired by marijuana on the job (just as no one would expect you to tolerate a drunk employee in the workplace). The challenge, however, is the limitation of drug tests when it comes to marijuana.
Unlike alcohol, drug tests for marijuana only detect the presence of THC; they do not determine whether someone is currently impaired (THC can remain in a person's system for several days, and even longer for regular users). So even if a drug test is positive for marijuana, that doesn't necessarily mean the worker is impaired while on the job.
So employers would need to establish proof of impairment in addition to the drug test result. You will need to clearly define and articulate the process of identifying impairment (e.g., observations of employee behavior, physical indications of use, admission by the employee) and provide education/training for employees and managers.
3. Work with knowledgeable experts to make sure your business is compliant.
As we mentioned, where things get truly complicated is if you're operating in multiple states, where you have one state that does offer employee protection, another state that does not offer employee protection, and then a third state that is silent on employee protection. Another pitfall occurs when state law changes—you need to adjust your policies and procedures accordingly.
Hiring an experienced attorney to help draft your policy is always a smart move. So is working with a compliant drug testing partner like Good Egg (we have our own in-house counsel).
Let Us help you make sure your drug-testing program is compliant in terms of marijuana. Let's Chat!