Not all background check service partners are created equal, something you likely already know.
If you're auditing your current background check vendor and/or vetting potential partners, this blog post will help. In it, you'll find 10 questions to ask yourself as you're evaluating different vendors so that you can find a reputable background check company.
1. Is the background check vendor accredited by the Professional Background Screening Association (PBSA)?
If the answer is "no," then cross the vendor off your list. The Professional Background Screening Association (formerly the National Association of Professional Background Screeners) is a nonprofit trade organization founded in 2003 "to advance excellence in the screening profession."
The PBSA has rigorous accreditation standards in place that involve thoroughly vetting a screening company's policies and procedures, including data security. PBSA accreditation isn't "automatic"—achieving and maintaining it takes time and commitment to high standards.
Regarding its accreditation process, the PBSA site states, "Governed by a strict and thorough set of professional standards of specified requirements and measurements, the Background Screening Agency Accreditation Program (BSAAP) has become a widely recognized seal of approval bringing national recognition to an employment background screening-affiliated organization for its commitment to achieving excellence through high professional standards with accountability that results in continued institutional improvement."
Bottom line: Working with a PBSA-accredited vendor can offer you peace of mind since you'll know that an independent organization with a deep understanding of the screening industry has already evaluated and accredited the vendor. If your vendor is accredited, it likely displays the accreditation on its website (check footers, headers, and the "about us" section). Or you can search the PBSA accredited firms directory.
2. Does the background check vendor have excellent technology—and ongoing plans for innovation?
Run away from any vendor that still uses paper. Paper made sense thirty years ago. It doesn't now. Your background check company should provide solutions that are 100% paper-free, start to finish.
Systems should be comprehensive as well. For example, the drug test you order should fully integrate with the background screening process, both in the ordering and the delivery of results. If your current vendor has different systems for different products, that's usually a sign of obsolescence.
Items to ask about...
Bottom line: A reputable background check company should be technologically nimble, forward thinking, and always looking for ways to make the experience better for job applicants.
3. Does the background check vendor deliver exceptional customer service?
Ask yourself if any of this sounds familiar: your current vendor was SO attentive during the sales process, but once you signed the contract, they stopped returning your calls promptly, or worse—they stopped returning your calls altogether.
Or let's say you call your vendor regarding an issue with an order, and you reach Customer Service Rep A. But when you call in the next day, you get Customer Service Rep B. And you can't seem to connect with Customer Service Rep A again no matter what you do (and Customer Service Rep B doesn't seem to know anything about it).
And on and on it goes. Each time you call in, you get someone new instead of someone who knows you, your account, and your company. You spend more time re-explaining yourself than you do getting answers to questions and resolutions to issues. (If you're wondering if there's a better way, here's the short answer: There is.)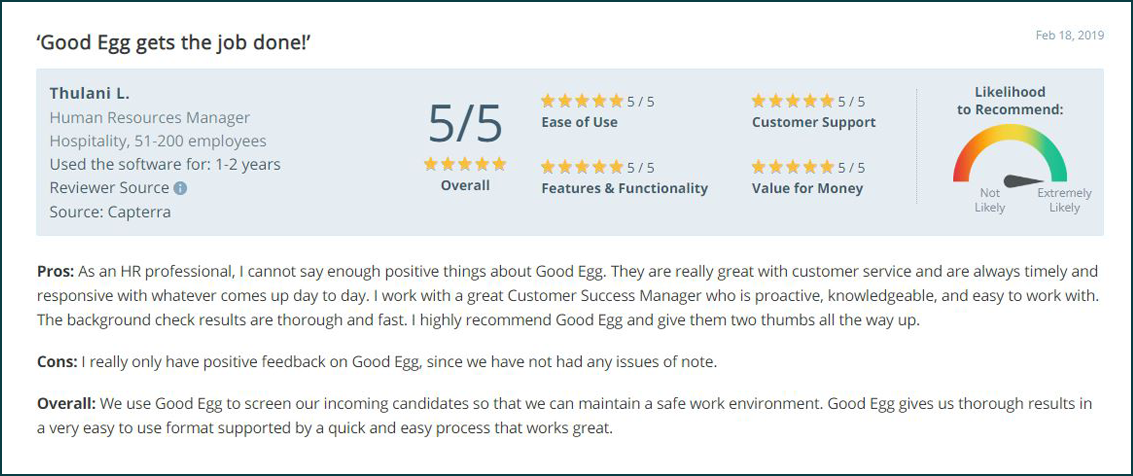 Customer service should also cater to your job candidates as well. You want your applicants to have an awesome candidate experience.
Bottom line: If you don't have a dedicated account manager, that's a BIG red flag regarding your current vendor. To them, you're just another contract number. You, your workforce, and your job applicants deserve better.
4. Does the background check service partner reach out proactively?
Your background check vendor is the expert in pre- and post-hire screenings, right? So shouldn't they be reaching out to you with recommendations, notifications about changes in laws, and insights regarding your current program?
A quality screening vendor won't simply wait for you to call them with a question or request. Instead, they'll be proactive. They will regularly check in with you to solicit feedback, make program adjustments, and provide suggestions for enhancement.
Bottom line: When it comes to background screening vendors, think relational, not transactional. A good vendor wants to develop a long-term relationship with you and your organization rather than simply complete a transaction.
5. Does the background check vendor care whether you're compliant?
Compliance is such an important issue. Most providers themselves are compliant, but they're not necessarily always helpful in making sure their customers remain compliant.
Keep in mind that many states have different disclosure verbiage or summaries of rights that you need to present to job applicants when getting their permission regarding background checks. Depending on where you're hiring people, you may have to present them with several different documents to get their permission. This verbiage is constantly changing at the state level. A quality vendor will help you manage this so that you're not violating any laws (because violations result in big fines).
Bottom line: Do not underestimate the risk that results from providing the wrong disclosures and authorizations to job applicants. Work with a vendor who can keep you compliant. Your vendor should alert you whenever there's a change at the state or federal level. In addition, the vendor's system should be technologically advanced enough that it can dynamically present the right disclosures and authorizations based upon where that job applicant lives.
6. Does the background check service provider understand your organization and your hiring challenges and goals?
If you inherited your current vendor, you likely don't know the answer to this question. And even if your vendor did have this conversation with your predecessor (or with you), hiring goals (not to mention organizations themselves) can change. This isn't a once-and-done discussion. A good vendor will not only revisit these topics, but also make recommendations based on the outcomes of these talks.
Bottom line: Hiring isn't a static process. Goals change, new challenges crop up, and your workforce's needs will advance as well. Your vendor should actively seek updates and initiate discussions around these topics.
7. Does the background check vendor offer contemporary screens and custom packages?
Your vendor's technology must keep up. But the components of the screening packages themselves need to evolve as well. Too often, programs are set up and forgotten—they just go on autopilot. (If you inherited your current screening vendor, it's quite possible this is exactly how things are operating.)
Don't view background screenings as an administrative process and a box you need to check off a long list of tasks. A quality screening should arm you with insights that will help you make better hiring decisions (remember, bad hires cost your organization thousands and thousands of dollars).
For example, if you conduct employment verification, all this does is verify the dates of your applicant's previous jobs. Knowing someone worked for Company ABC from June 2016 to March 2018 doesn't tell you what kind of employee this person was or will be, meaning how they might influence the workplace culture.
But if you do a compliant social media screening and learn that this person has a history of using racist or intolerant language—well, that information is more relevant, isn't it?
Bottom line: Your vendor should be progressive when it comes to screenings and recommend a program that makes sense for your organization's specific needs—and it should regularly revisit this program to ensure it is meeting expectations (and adjust it if it isn't).
8. Does the background check vendor encourage a process that looks at a person's present and future behaviors in addition to a person's past?
We touched on this in the previous question and answer, but here's another way to look at it. In the old days of background screenings (think circa 1995), it was all about looking at the past. For example, things like past employment and education. The focus was on what a person had done rather than who the person is now—and who the person might be years from now while still employed by your organization.
Yesterday's background screenings were built to follow old paper trails rather than current or real-time updates. Technology has changed all that, but not all vendors have kept up: some still focus only on the past.
A compliant social media screening, which considers past and present behaviors, could help round out the picture.
But what about a person's actions and behaviors weeks, months, or years from now? Should your vendor have a strategy for monitoring future information and activity?
Consider this example: Maybe a current employee passed a background check two years ago. But since then, the person has undergone painful knee surgery and has become addicted to pain medication. Their behavior online is increasingly erratic and aggressive, and they're using technology to share thoughts of violence and self-harm.
If you only looked at this person's past during a pre-hire check and you didn't conduct ongoing monitoring or post-hire drug screening, you would miss this valuable information—info that could help you and your team address the situation before it escalates further and potentially disrupts the workplace.
Bottom line: A quality vendor should provide options for pre-employment background checks and post-hire screenings.
9. Does your background check vendor have a "one size fits all" approach?
A one-size-fits-all approach might be a good strategy for, say, selling t-shirts. But it's not a smart strategy when it comes to employee screening packages. If you're screening all candidates using the same package, you're likely under-screening and/or inappropriately screening.
Let's say you're hiring an accountant. You'll want to include a credit check as part of the screening because it makes sense to perform credit checks on anyone you're considering for a financial position. (The idea being if they've had money problems—such as declaring bankruptcy—you'd want to know before granting access to the company's bank accounts.)
But if you're hiring a marketing coordinator, you probably don't need to conduct a credit check on that person (and in some states, doing so would be against the law). So a good vendor will help you create screening packages for specific job types that are appropriate and compliant in your organization.
Bottom line: The best background screening vendors build custom packages that make sense for your business. They can fashion these packages only after taking time to understand your company, your hiring process, and your specific goals and challenges.
10. Does the background check service provider help you manage the adverse action process?
Adverse action is a complex topic that involves federal law and ever-changing state and local laws. Compliance requires vigilance, expertise, and constant awareness about changes in the laws and regulations at play.
As an employer, you are required by law to inform job applicants that you will be conducting credit and criminal history checks as a basis for their employment. You are also required to get their explicit consent regarding these background checks.
If you plan to reject a job applicant due to information obtained on a background check, you are also required by law to inform the job applicant via a pre-adverse action notice. This notice should include a copy of the background check report and a copy of "A Summary of Your Rights Under the Fair Credit Reporting Act." At this point, the applicant has a "reasonable" amount of time (at least five business days) to review the background check report and dispute any inaccurate or incomplete findings.
If the applicant does dispute any findings, your vendor that performed the check must notify you immediately and re-investigate all the disputed information with the information's source in a timely manner. If there are errors/incorrect information, the check itself must be corrected, and a new copy of the report must be given to you and the applicant. Only after completing these steps can you legally decide whether to take adverse action. One final important note: if the report was updated due to a dispute, a new pre-adverse action notice should be sent with an updated copy of the report (followed by another reasonable waiting period) before you can send the job applicant a final adverse action notice.
As you can see, there are A LOT of steps. Missing a step could result in costly fines, litigation, and/or brand damage.
Bottom line: Having a quality background screening vendor to help you manage this process is essential. An additional note: The adverse action process should not be paper-based. It's critical that this process be digitized from start to finish if your applicants desire and consent to electronic communications.
As you can see, when it comes to finding a reputable background check company, you need to do your homework. Or you could start with one of the best: us! :)
The Good Egg Difference
At Good Egg, we forge real relationships with our clients using the following as building blocks.
Our products aren't merely "solutions." How we customize our products to meet your organization's specific goals—that's the solution. You won't find any cookie-cutter approaches with us.
21st century screenings. Our screenings can take into account a person's past, present, and future behaviors while diving deep into their social media footprint. We call this the Screening Continuum.
6-star customer service. Think real-time updates on outstanding screens, single points of contact (all US-based), and same-day callbacks. (Yes, really.)
Turbo-charged technology. Paper-based checks are so 1995. Our technology is fast and accurate and provides true transparency on outstanding screens.
Compliance, compliance, compliance. We live and breathe compliance. Our system will dynamically present the right disclosures and authorizations based upon where that job applicant lives. We are proactive and alert you whenever there's a change at the state or federal level.
PBSA accredited. Remember, this is the gold standard in accreditations.
The best way to experience the Good Egg Difference is by requesting a demo.
Get in touch soon!