At the beginning of 2020, which feels like 100 years ago, we made a bold declaration that we wanted to be the best reviewed background check company in the galaxy.
Why? Well, real reviews from real people (customers and candidates alike) can provide great insight into whether we are indeed a reputable background check company.
Since we're (finally!) approaching the end of 2020, we thought we'd share some of the reviews that have come in—and why these words mean so much to us.
1. Review highlight: "Efficient and professional experience"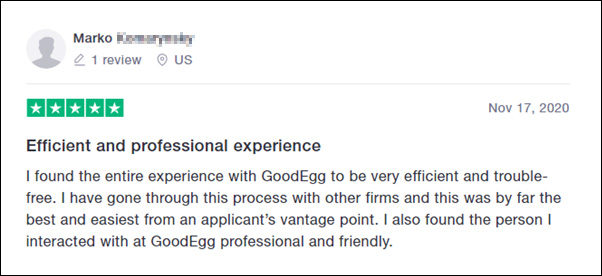 Why this review matters to us:
Creating a great candidate experience—one that's "efficient and trouble-free"—is what drives us. Our customer service reps LOVE helping candidates. In fact, we have a dedicated phone line for candidates to call. As in a line that a real live human being answers (or returns messages promptly). Check out our Candidate Help Center for more info.
2. Review highlight: "Easy background checks"

Why this review matters to us:
We love the fact that this reviewer mentioned customization. Employee screening programs should never be one size fits all. Why? Because goals will vary, depending on the business and even the industry. For example, what a boutique marketing agency needs will be different from a limo company with locations throughout the Northeast.
At Good Egg, we work closely with our customers to learn about their business, their industry, and their specific needs. Check out our case studies to see how we've customized screening solutions for different companies.
3. Review highlight: "Easy to use, no hassle"
Why this review matters to us:
There's a lot we love about this review, like ease of use, excellent customer service, and the fact our solution saved the company money.
The "it's so easy to use" theme shows up regularly in our reviews. We've made our software simple, intuitive, and completely smartphone-friendly—for you and your candidates. Applicants can start an application on their phone and finish it there too, no paper necessary. Plus, our screening software integrates seamlessly with applicant tracking systems, which makes ordering screens and tracking results easier than ever.
4. Review highlight: Great help, even during a pandemic!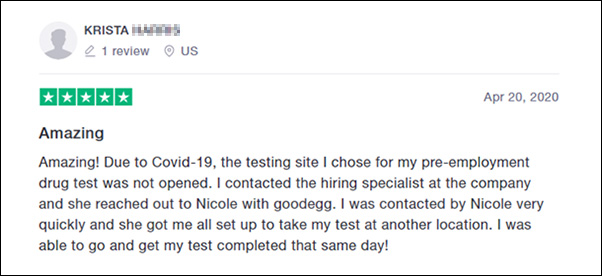 Why this review matters to us:
Due to the pandemic, 2020 has been a hard year for everyone, but particularly employers and job seekers. Like so many businesses, we've had to pivot, too. Every day, our awesome staff wows us as they work hard to help our customers and their candidates. Learn more about how we approached background checks during COVID-19.
5. Review highlight: "The name says it all"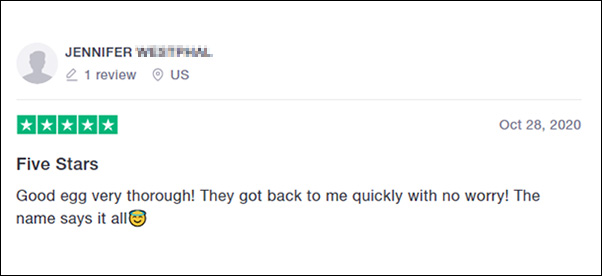 Why this review matters to us:
At Good Egg, we believe screening is a fundamentally human thing. This is why we provide solutions, advice, and leadership to our clients in a fundamentally human way—person to person. Our reputable background check company is filled with good eggs so that we can help your company find the good eggs it needs. Learn more about our philosophy.
The next background check customer we're hoping to wow is YOU!
If you're reading this and you're not currently a Good Egg customer, let's chat. We can't wait to show you the Good Egg difference.