At the start of a new year and new decade, many companies embark on bold missions, and at Good Egg, we're no different.
If you've been following us at all over the last twelve months, you've probably heard us mention our desire to be the best-reviewed background check company IN THE GALAXY. (Cue the Star Wars music.)
But now we're putting this bold goal front and center—and explaining why it's so important to us.
Background Check Companies Are a Dime a Dozen. We're Not OK with Being Just Like Everyone Else.
Let's face it: the background check industry is an incredibly crowded space with many different players, some of whom have been around for decades.
Here's the thing, though: Most of us are selling the same (or similar) background check products, which is where the problem begins.
See, a background check is an extremely intimate product—you're looking into a person's past and present (and in the case of ongoing monitoring, their future). If you've been selling these products for a long time, it's easy—sometimes too easy—to forget that people's lives and livelihoods are at stake and that background checks are more than just "products" to the people who have to go through the process.
At Good Egg, we NEVER want to take any of this for granted.
Because the day we forget the "people part" of background checks is the same day we'll become just like so many of those other background check companies out there.
And we're determined not to let this happen.
Why Good Egg Focuses on Relationships, Not Transactions.
Listen, we're not suggesting we're going to become best friends with every HR director we work with or every job applicant who reaches out to us with a question. We don't mean "relationships" in that sense.
What we are saying is this: because background checks deal with humans, and very private parts of these humans' lives, WE—as the background check company—need to be human in return.
What does this mean?
It means that every step along the way—from the time a potential customer reaches out to us or a job applicant needs assistance or someone is confused or anxious about any step of the process (like a drug test)—we ALWAYS have compassionate people on our team who are ready to help. We make sure our team members don't view anyone as merely a "transaction," but rather, as a fellow human being.
In other words, we treat our customers and their applicants and employees the same way we want to be treated.
Yes, we are a for-profit company. We don't deny that. But making money, doing our jobs really well, and treating people with respect aren't mutually exclusive terms. We believe it's possible to be a profitable company AND the best-reviewed background check company in the galaxy, and we endeavor to prove this point one happy customer at a time.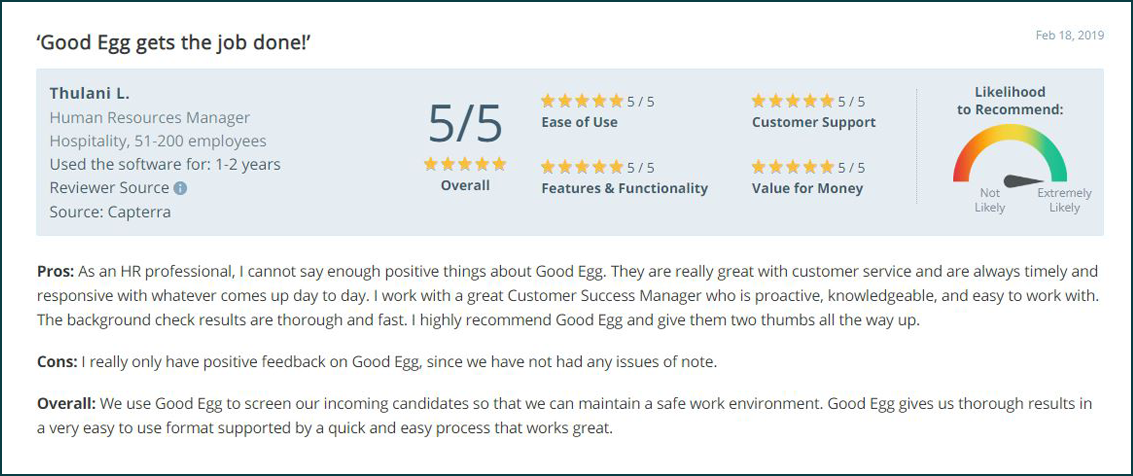 Why We Want to Be the Best-Reviewed Background Check Company in the Galaxy.
Anyone can call themselves the best at what they do. Search on "best" + "insert name of product here" and you'll find many company websites trying to convince you why they are the best at what they do. We think it's much more believable, however, when OTHER people—people outside the company—make this claim.
At Good Egg, our goal is to be SO good at what we do that our customers are inspired to sing our praises on places like Trust Pilot, Capterra, and other review sites.
And when we say "customers," we're not only referring to companies who use our background check solutions, but also the candidates and employees who undergo background checks and ongoing monitoring.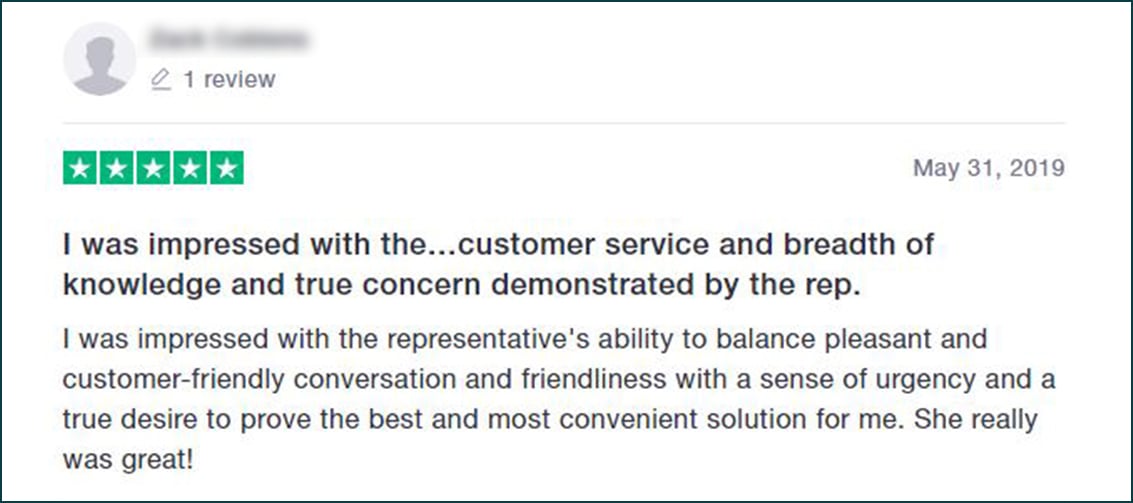 Bottom line: we strive to deliver an awesome experience to everyone we interact with, every step of the way.
We Pay Attention to Critical Reviews . . . And Learn From Them.
Now, we KNOW we're not perfect. One hundred percent perfection every time is one of those impossible goals, but that doesn't make "going for it" any less important.
If we make a mistake, we own it—and do our best to fix it.
We learn from our mistakes.
We learn from constructive feedback. Because not every "negative" review is due to a mistake. Sometimes someone didn't have the six-star experience we strive to deliver for a wide variety of reasons, and some of those reasons turn into inspired ideas that make us better. Feedback is critical to our process of continuous improvement, which is one of the main things fueling our mission.
We Know All Of This Might Sound Odd To Other Background Check Companies.
Yeah, some of our competitors might call our position on all of this "odd," "cute," or even "cheesy."
We're OK with that.
We believe in this mission.
We believe it's the right way to operate as a company—and as people.
Interested in experiencing our approach to background checks?

Let's Chat!