Companies with remote workforces—especially those that had to make the move suddenly due to COVID-19—should consider ongoing social media monitoring of employees.
Here are three reasons why.
The increase in social media usage isn't surprising, given how many people have been stuck at home due to shelter-in-place orders. But keep in mind that many of these stuck-at-home people have also been working remotely.
So, yes—that means a good number of your work-from-home employees have probably been using social media more during work hours—a habit that they might not easily break if/and when they return to the office.
While it's certainly understandable if people are browsing Facebook a little more than usual in an effort to connect with family and friends or they're posting pics to Instagram of the awesome loaf of bread they made, what's not OK is if people are posting problematic content, such as the following:
Hate Speech
Insults and Bullying
Narcotics
Obscene Language
Self-Harm
Threat of Violence
Toxic Language
Drug-Related Images
Explicit/Racy Images
Violent Images
Now here's the dirty truth: unfortunately, there's been an increase in negative online behavior since the pandemic—particularly racist speech. (An article in The New Yorker discusses the "rise of coronavirus hate crimes," noting that throughout history, pandemics have often intensified discrimination against minorities.)
Wouldn't you want to know if you had employees participating in this sort of behavior so you could address it and take appropriate action before it spilled over into the workplace—even a virtual workplace?
Of course you would. And social media monitoring is an effective and budget-friendly way to help you do exactly that.
2. Remote workforces are here to stay.
Flex work schedules were already in demand before COVID-19. The pandemic has simply accelerated the increase and pushed slow adopters to consider the many benefits a remote workforce offers both the company itself and employees.
No, this doesn't work for all types of industries—someone has to haul cargo cross country or work in the meat-packing plant, for example. But now that many companies and employees have seen that working successfully from home is possible, this trend will likely continue.
As HR Executive reports, "The coronavirus outbreak has forced employers to embrace work-from-home benefits at a rapid rate. But many HR and other corporate leaders may make the work arrangement permanent in a post-pandemic world."
This means employers will need to get more creative in how they manage the workforce—including how they maintain a productive and non-toxic workplace online. Again, social media monitoring can go a long way in helping HR manage this.
3. Social media monitoring can be an excellent, budget-friendly way to keep tabs on problematic online behaviors before they become full-blown headaches.
So, how does social media monitoring work, anyway?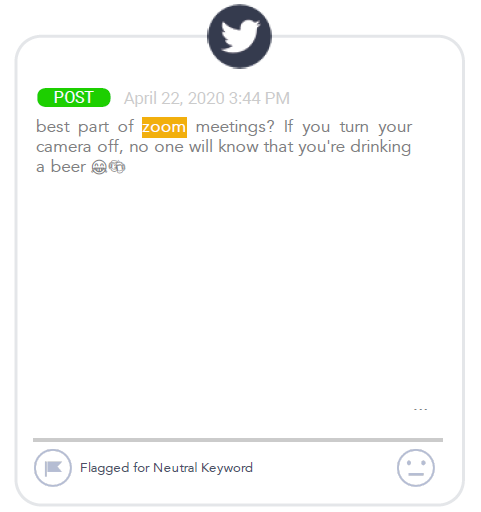 Social media monitoring is similar to our other monitoring services (MVR monitoring and criminal monitoring) in that it works on a go-forward basis.
The initial social media background check sets the baseline. Then, the ongoing monitoring does exactly that—it monitors people's online activity going forward, looking for content in the categories outlined above.
Our social media monitoring solution also allows you to customize keywords as well. Here's a real-time example: Many people have been thrust into working remotely for the first time and have started using Zoom, the popular conference call app. So you can add "Zoom" as a search term as a way to monitor productivity—or potential issues.
Bottom line: If you have a remote workforce, social media monitoring is going to be a must-have tool.


Want to learn more about how it all works?

---