As Good Egg's marketing manager, I pay close attention to what our customers and prospective customers talk about when it comes to employee screening. I also listen closely to the Good Egg sales team.
Usually, the two mesh.
But an interesting thing happened recently. Our sales team members always remind me that poor customer service is the biggest pain point our customers and prospects deal with. We know this because we hear the horror stories every day, which is one of many reasons why we strive to always deliver a six-star customer experience.
Recently, though, I'd been wondering about our supposition: would customers and prospects agree with our conclusion that customer service is their biggest pain point?
I decided to do some informal surveying, and while far from scientific, the initial data is quite telling—and surprising. See the chart below.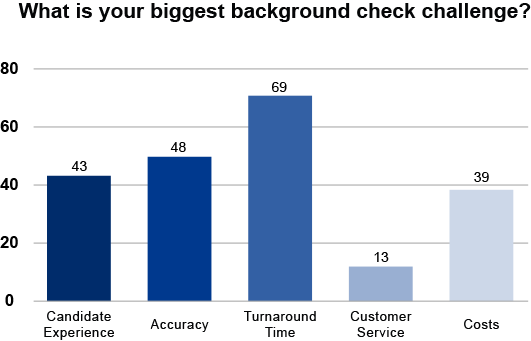 Customer service comes in dead last.
Huh.
I chatted about the results with the sales team. Everyone was just as surprised I was. Then, we realized what's probably going on. The adage "perception is reality" is at play here.
Sure, turnaround time (which has the most votes) is critical—and it's definitely a big challenge for the busy HR executive who's trying to fill open positions quickly. But all of us at Good Egg would argue that you can't have speedy turnaround times without excellent customer service first. In fact, we'd also argue that quality customer service is the linchpin of a successful employee screening process—it's what keeps all those other components working together.
Allow me to explain...
How customer service affects turnaround time
You're under a lot of pressure to hire quickly and well. You know the costs of bad hires, both in terms of dollars and time. So while speedy screening is essential, so is quality.
In order to get speed and quality, you need to work with a vendor that will offer more than simply a transaction on a background check "product." You need someone to collaborate with—someone who will get to know your organization's hiring process and unique hiring challenges. Only then can the vendor help you create a high-quality screening program that moves swiftly, resulting in faster turnaround times.
But here's the thing: a screening program shouldn't be static. You can't just set it up and forget about it. Why? Well, for one thing, laws change—laws that can and will affect your hiring protocols. Your organization's goals will change, too. The demographics you're hiring from will also change. For example, we've spent a lot of time talking about the influx of Millennials into the workplace. Soon, we'll be talking more and more about the next generation: Gen Z. Your overall process will need to evolve to keep pace with the demands of these and future generations.
In order to make sure your program continues to run swiftly and well (especially as it evolves), you need a proactive partner who provides excellent customer service to ensure all of this happens.
Another point: while we all wish there were never any hiccups when it comes to background checks, stuff comes up. You'll have questions—questions you'll need answers to quickly. Applicants might have questions. Again, fast responses are critical if you want to keep everything moving along. Prompt and attentive customer service matters.
Sometimes things stutter and stall for reasons outside of any vendor's control. A good vendor with solid customer service will work even harder for you during these delays. There's also the adverse action process. If you regularly run background checks on job candidates, you will have to deal with this incredibly complex area. Excellent customer service can again help move things along quickly—and compliantly.
I realize everything I just brought up might mean you need to adjust how you think about employee screening and background check providers. My point is this: don't focus only on turnaround times. Look for quality customer service as you go through the sales process or as you work with your current vendor. If you truly have a good partner who listens and who's responsive, then fast turnarounds will be part of the deal. (And if that's not happening, reach out to us!)
How customer service affects accuracy
As you know, background checks deal with sensitive personal information. From criminal record checks to drug tests to social media screenings, the information can make or break a candidate's chance of landing the job—or an employee keeping their position. Accuracy matters.
Not only that, but you want to have confidence in the results so you can make smarter, faster hiring decisions. Again, accuracy matters.
But here's the thing: accuracy doesn't just happen. You need smart people overseeing the process on the back end. This could be confirming that you're checking the "right" John Smith, for example. Or it could be something as complex as knowing the laws governing the various states where your organization operates out of—and making sure your screening process is compliant.
When you work with reputable vendors, you'll likely have a team of people working on your behalf, even if you don't realize it (for example, boots on the ground combing through courthouse files that aren't accessible online). Your customer service team needs to be in sync at all times, which is why having a dedicated account manager—someone who knows your business, your process, and the challenges you face AND someone who oversees all the people on the back end—is critical to the efficacy and accuracy of your program.
Something else to keep in mind: The location of a vendor's customer support teams can affect responsiveness and accuracy as well. This article regarding Lyft's problems with its background check vendor reveals as much. According to the article, because the vendor relies on offshore workers in India and the Philippines, language barriers sometimes cause issues, not to mention the workers are often under tremendous quota pressures and caseloads, all of which can lead to errors.
How customer service affects costs
Don't forget this adage: you get what you pay for. There's a reason why some background check vendors are super cheap. They provide the bare bones and no customer service. And even if they claim to offer customer service, in reality, that's usually lip service to get you to sign.
Think about it. If you work with a dirt-cheap vendor, what happens if you have a question? Good luck calling that general 1-800 number and hoping someone answers—or returns your call.
What happens if your cheap vendor messed up the check? This will eventually catch up with you. For example, what if an applicant "passed" a poorly executed screening, but it turns out this person wouldn't have been hired if your organization had invested in a thorough check that provided an accurate picture? Or what if your company goes through a lengthy adverse action process on your behalf, or doesn't maintain a compliant dispute process, and the job candidate sues for unfair hiring practices? Or what if the check is simply flat-out non-compliant?
When you choose a screening vendor with excellent customer service, you can avoid these issues. Why? Because your customer success representative is already anticipating them. Their job is to make sure your screening process is compliant—and that it remains compliant. Their job is to answer questions. Their job is to audit your adverse action process. And so on.
Yes, you might pay more up front, but this investment in customer service will save your organization big time.
How customer service affects job candidates
We LOVE that people are thinking about the applicants' experience. In such a tight labor market, you know your organization needs to stand out in positive ways, every step of the way. And what better first step than making sure candidates have a quick, smooth background check process—one that's triggered via text, right from a person's phone?
Now, you might be thinking, "So doesn't technology matter more than customer service?" Technology matters, of course. But technology never replaces the human touch. If your candidate has a question, they should be able to easily and quickly reach out to someone who can answer it. When we say we provide a six-star customer experience, we don't simply mean your experience—but also your applicants' experience.
For example, when it comes to drug testing, we find people need nudges. It's not because they're trying to hide something, either. It's human nature that people sometimes drag their feet when they need to "go in" for a drug test. At Good Egg, we email and even call with helpful reminders. Again, customer service like that matters—not just from the perspective of creating positive experiences, but also from the perspective of reducing turnaround times.
By the way, at the risk of tooting our own horn . . . we sometimes get calls from job applicants who are going through a competitor's background check system and encounter issues. Yes, you read that right—these folks call us. Why? Well, many of our competitors don't offer any help for applicants (or, at least, no easy way to access support). If the applicant turns to Google with their question or dilemma, they sometimes land on our site. And they'll call us out of desperation. And yes—we actually take the time to answer their questions (it's not their fault, after all). We're good eggs like that! :)
The best way to experience the Good Egg difference is to simply have a conversation with us.
Let's chat and we can show you a demo of our platform while we're at it.