Social media. Love it or hate it, the reality is people are using it—and at record numbers.
In 2017, Statista reports that there were 2.46 billion social media users, and projections suggest 2.77 billion people will be using social media in 2019.
Statista goes on to note the following: "North America ranks first among regions where social media is highly popular, with a social media penetration rate of 66 percent. In 2016, more than 81 percent of the United States population had a social media profile. As of the second quarter of 2016, U.S. users spend more than 215 weekly minutes on social media via smartphone, 61 weekly minutes via PC, and 47 minutes per week on social networks via tablet devices."
Given these numbers, it's fair to say the majority of your job candidates and current employees likely already use social media, which is why it makes sense to review people's social activity for problematic behavior that could disrupt the workplace and damage the brand.
"Social media is no longer cutting-edge; it is mainstream. For HR to overlook it today would be like ignoring e-mail 20 years ago."
(Source: SHRM)
But here's the thing: How you go about looking at people's social accounts could potentially cause issues for your company.
The best strategy? Outsource social media checks to a compliant screening partner. Here's why.
You can't do it well and legally by yourself.
You might think you can. After all, how hard is it to look someone up on Twitter and check out a few tweets?
But that right there is the issue: a few tweets won't provide the insights you need. Remember, the Internet is a vast space with hundreds of social media platforms and thousands upon thousands of blogs and websites. It's impossible for a human to access and assess everything online, which is why artificial intelligence (AI) is needed to assist in a thorough review.
Besides, even if you decide to "check a few places" yourself, you could be entering legal hot water because you can't "unsee" whatever you discover on someone's social accounts. These "insights" could very well include protected class information that biases hiring decisions and violates EEOC, FCRA, and state privacy laws. Plus, there are just too many places online to look for information—and too many years' worth to review.
You have better things to do with your time. Outsourcing your social media screens to a compliant third-party vendor means you'll get the insights you need to make an informed decision—legally and quickly.
If you're going to do it at all, do it right.
You wouldn't task a foot doctor to evaluate the health of a person's heart, right? So you shouldn't task someone in your office to assess a job applicant's social media behavior since that's not their area of expertise.
"If you're going to do it, do it right in terms of the law and in terms of the actual process itself. Choose a vendor that specializes in all phases and types of background checks: pre-employment, post-hire, and continuous monitoring of current employees.
Don't dismiss the importance of adverse action. Expert guidance from a compliant screening vendor will help ensure compliance.
Anyone involved in recruitment knows how critical a compliant adverse action process is (and how involved it can be). If information uncovered on a social media report is going to lead you to take adverse action, you need to conduct it with the same care and due diligence you would any other adverse action process.
In fact, SHRM notes the following: "some state laws prohibit adverse action based on off-duty conduct, except under narrow circumstances." Working with a qualified partner who is well versed in adverse action and all its nuances is a smart strategy.
There should be a healthy distance between an employer and the employees' and/or job candidates' social media life.
This is just common sense. If the employer—or anyone on behalf of the employer, like an HR department—starts following all of company's employees on social media, then this can lead to a "little too close for comfort" syndrome.
For example, does the employer really need to know an employee binged on a Real Housewives marathon last Monday? Or does the employer need to see all the pictures from another employee's bachelor party? The short answer is no. Why? Because it's not relevant to the business.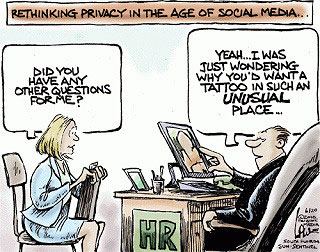 Image by Flickr
Encouraging a healthy distance between management and employees on social media is smart. Leave screening and ongoing monitoring to an objective third party that understands what's relevant—and legal.
Working with a third-party screening partner could provide you with an efficient and economical one-stop solution for all your screenings.
No doubt, you already outsource your traditional background checks and criminal background checks to a third-party vendor because why would you do it on your own? Traditional checks and criminal record checks require a combination of excellent technology and understanding of employment law. The same is true for compliant social media screenings. So it makes sense to outsource social media screenings to the experts as well.
And it makes even more sense to work with one partner who can handle ALL of your screenings. Why? Working with one screening vendor will save time and increase efficiency—no more managing multiple vendors for various screens. Plus, a quality screening partner will learn about your business and your specific needs so it can design a package that meets those needs.