GOAL
Create a centralized, streamlined screening process

EMPLOYEE SIZE
Over 11,000 team members in 19 locations

THE CHALLENGE
Finding a Reliable Partner, Not Just "Another Vendor"
Good Egg's customer, a leader in the auto manufacturing space had an on-going problem: when this particular
manufacturing company
reviewed its background screening process, it had a clear vision regarding the changes it wanted to make—changes that included creating a centralized, streamlined system with a vendor that took the time to understand HR's needs.
But would going through the standard proposal process ultimately bring its vision to life, or simply result in "another vendor" that wows on paper, but disappoints in reality?
This company's Human Resources Assistant Manager, Talent Acquisition, faced this dilemma. She recognized the perils of a "business as usual" mindset. For the sake of the company, she wanted to avoid that. She wanted something different—something better.
She explained, "We wanted a true partner. Someone who not only takes our calls, but is happy to talk to us. Someone who'd take the time to study how we do things internally, get to know our brand, our way, and then say, 'Based on your goals and what we're seeing, here's what we recommend and why.' We wanted a vetting strategy that would help us forge this sort of relationship with a background screening partner. But then the question became...how do we find this ideal partner?"
---
THE SOLUTION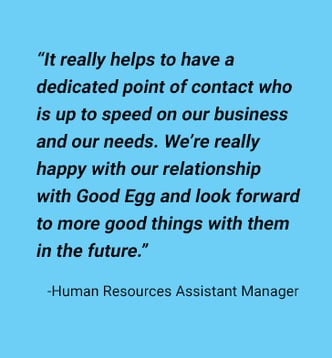 Fostering a Real Relationship With a Background Screen Provider
In this case, Good Egg found the manufacturing company in question, thanks to one of Good Egg's business development executives, Keryn White, calling to learn about the company's pain points and background screening needs.
White eventually connected with the HR Assistant Manager. And, like in any good relationship, the two began by talking and building trust through phone calls and an eventual meeting on-site.
The HR Assistant Manager recalls, "The fact Keryn came out to have a sit-down with me and my team was huge. It showed she really wanted to know our business, the challenges we face in talent acquisition, and our goals. So many vendors, especially in the background screening industry, are looking for the quick sale, the fast contract. But Keryn and Good Egg were different."
Keryn from Good Egg adds, "Those early phone discussions and the in-person meeting were essential in helping me understand the business challenges, specifically the fact they had multiple branches doing things independently. It was exciting to show them how Good Egg can do everything—from the background checks to drug screenings—under one roof. They also loved the fact we audited their compliance process and made recommendations for improvements."
---
THE BENEFITS
Consolidation and Centralization Provide Consistency, Clarity, & Reduced Time-To-Hire
Since the HR Assistant Manager and her team wanted to consolidate processes, they quickly embraced the Good Egg solution. The previous screening process involved a mix of disparate online systems and paper, both of which were time consuming, costly, and, at times, redundant.
Consolidating everything under one roof increases efficiency while reducing the time to hire. Plus, having all data in one centralized place helps HR and corporate make informed hiring decisions and identify trends. Not to mention the manufacturing company's brand is now consistent throughout all stages of the hiring process, no matter where the branch is located.

"The Good Egg system is incredibly intuitive," the HR Assistant Manager says. "We love the fact that our various locations are using the same system. And now we—at the corporate level—can easily drill down and see what's what in each branch."
Best of all? After only 90 days, Good Egg was able to decrease the company's time-to-hire by 23%.


Compliance Becomes Proactive (and Takes the Burden off the Company)
This particular manufacturing company takes
compliance
seriously and recognizes its complexities and nuances, thanks to ever-changing laws at the state level. Ensuring all documentation was compliant in the previous system proved challenging since everything was spread out over multiple locations in various states, and the previous vendor didn't help.
That all changed—for the better—with Good Egg.
The HR Assistant Manager says, "It's a relief to finally have a background screening partner we can trust to keep up with changing laws and perform due diligence. Knowing Good Egg is proactive and will alert us to any necessary changes is huge."
Six-Star Customer Service Lives Up to its Name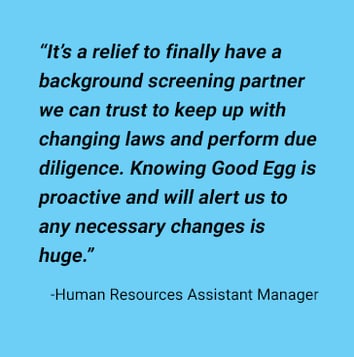 In addition to great solutions, the manufacturing company also craved an
excellent customer service experience
—one that would include a dedicated account manager who'd come to understand, and even anticipate, its needs.
Once the company signed with Good Egg, it got to experience six-star customer service. Kelly Bryan, who is on the Good Egg customer success team, is the direct point of contact. As part of the onboarding process, Kelly conducted a number of training sessions with the manufacturing company's various locations. Today, she continues to work closely with the HR team.
"We communicate regularly," Bryan says. "Any time they need something, they reach out to me directly. Additionally, we recently completed a huge project: getting annual motor vehicle reports for all of the company's employees who drive or would possibly drive a company vehicle. So I worked closely with the HR team to get that up and running in the system for them. It's not something they had easy access to before. We'll do this on a recurring basis for them going forward, at least once a year."
The HR Assistant Manager adds, "Kelly has been great and is always willing to go the extra mile. It really helps to have a dedicated point of contact who is up to speed on our business and our needs. We're really happy with our relationship with Good Egg and look forward to more good things with them in the future."