GOAL
Offer modern employee screening to nonprofits and healthcare centers historically ignored

CPG MEMBERS
550 member organizations

INDUSTRY
Non-profit healthcare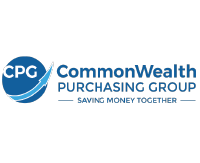 ABOUT COMMONWEALTH PURCHASING GROUP
CommonWealth Purchasing Group (CPG) harnesses the purchasing power of more than 550 member organizations across 37 states to negotiate deep discounts and significant savings opportunities. Together with over fifty nationally recognized vendors, CPG promises superior service alongside unparalleled savings.
THE CHALLENGE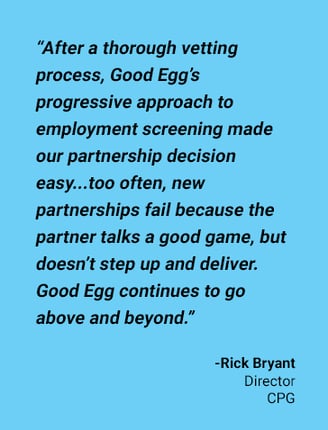 CPG is an independent group purchasing organization (GPO) that helps community healthcare centers streamline costs and boost efficiencies. To date, CPG has helped its members save over $30 million a year, thanks to its discounted vendor contracts.
The "independent" part is significant. CPG doesn't endorse a remote "parent" GPO. Instead, CPG contracts directly with each of its vendors—from choosing an initial vendor to assessing program performance and impact over time. Essentially, it vets the vendors first so its members can choose confidently, all while saving money. Sometimes, however, finding that ideal vendor can be challenging. This was the case in the employee screening space.
Background screenings
and
drug tests
are critical pieces in the
healthcare industry
's hiring process. After all, workers are serving vulnerable populations, so organizations must have reliable, drug-free, qualified employees. Community health centers need screening options that effectively vet candidates in these critical areas.
But the screening solution must also improve efficiencies, reduce time-to-hire, keep costs in check, and offer customization—and do ALL of this while remaining 100% compliant with federal, state, and local laws.
A tall (if not impossible) order for most vendors, but not Good Egg, as CPG discovered when it set out to find a background screening vendor it could offer to its members.
"After a thorough vetting process, Good Egg's progressive approach to employment screening made our partnership decision easy," says Rick Bryant, CPG's director. "We appreciated that they don't simply push their products and services on members—they want members to understand all the nuances of employee screening first before making any decisions."
---
THE SOLUTION
Good Egg demonstrated that price point shouldn't be the only consideration—and that cheap checks could cost organizations more (since the cost of replacing a bad hire can add up quickly).
Rick Bryant says, "Our members very much appreciated Good Egg's professionalism and expertise. Members commented that Good Egg's
complimentary assessments
were incredibly informative and insightful. Even if the member wasn't quite ready to make a switch, they walked away knowing much more about employee screenings than they did before. CPG loves providing this sort of added value to its members, which is why we value our partnership with Good Egg so much. Good Egg has made it so easy for us and our members. Too often, new partnerships fail because the partner talks a good game, but doesn't step up and deliver.
Good Egg continues to go above and beyond.
"
---
THE RESULTS
Member organizations learned the following, which in turn empowered them to make better decisions regarding their employee screening process:
Technology is critical in reducing time-to-hire. Paper-based checks no longer cut it. The background check process must kick off seamlessly via text so candidates can do everything on their smartphones. Back-end technology must be robust and integrate with literally thousands of online databases and, ideally, with the organization's applicant-tracking system.
Cheaper background check vendors don't have the necessary network "reach." For example, of the 3300+ county courthouses in the United States, about half are online. Many smaller and mid-size background check companies are not integrated with those courthouses that have online data access; they still send people out to retrieve records.
Superior customer service makes all the difference. Having a dedicated account manager who proactively (and regularly) checks in will help healthcare centers continuously improve their hiring processes.
Screening packages must be customized. A one-size-fits-all solution doesn't work for employee screening, since each healthcare center's needs will be different. Customization is critical.
Bryant adds, "Thanks to our partnership with Good Egg, it's now easier than ever for our members to access modern background screening, tailored for community health centers, at a discounted price."