GOAL
Improve hiring by integrating applicant tracking system and background check vendor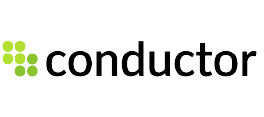 ABOUT CONDUCTOR
Conductor is a technology company with a passion for helping their customers. They bring together the best marketing minds out there and build amazing technology like their
SEO Platform
to help their clients create valuable, relevant content. Their goal is to lead their clients into the future of marketing.
THE CHALLENGE
After a fast-growing marketing software company Conductor was named Crain's "Best Place to Work" eight years in a row, the secret was out. With an influx of top talent to hire and onboard, the New York-based company needed to ensure both efficiency and a positive candidate experience throughout the process, without cutting corners on quality.
With Greenhouse Software as their current applicant tracking system (ATS), Conductor had already been able to structure and streamline their hiring process. But Conductor's background check vendor (one of the largest in the US and arranged through their former parent company) couldn't deliver the type of candidate experience that was important to Conductor's strong company culture. In addition, this background check vendor didn't provide the level of support expected from a user perspective.
To solve for this, Conductor needed to find a nimble and progressive background check partner – one that would deliver a superior candidate experience and that could easily integrate with their Greenhouse ATS.
---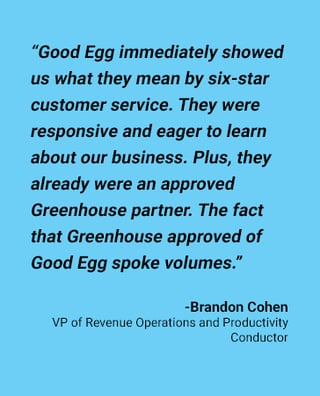 THE SOLUTION
When the Conductor team met Good Egg, they knew they'd finally found what they were looking for.
"Good Egg immediately showed us what they mean by six-star customer service," said Brandon Cohen, Conductor's VP of Revenue Operations and Productivity. "They were responsive and eager to learn about our business. Plus, they already were an approved Greenhouse partner. The fact that Greenhouse approved of Good Egg spoke volumes."
Good Egg brought their powerful technology to Conductor and showed how easily it integrated with Greenhouse. This allowed Conductor's HR team to remain inside the Greenhouse platform while conducting any tasks associated with the candidate screening process. As John-Paul Barnych, Good Egg's Vice President of Sales, said of the experience, "Our solid partnership with Greenhouse is what makes a seamless integration possible."
"Our HR team loves the
Greenhouse ATS
," said Cohen. "The goal was to have a background check solution that enhanced it, not hindered it."
Good Egg also implemented text messaging into multiple areas of Conductor's screening process, such as initiating candidate invites and offering candidate support, as well as verifying past employment and references. Areas of the screening process that are often the cause of delays have drastically improved due to the instant communication allowed by these texting features.
"We worked closely with the Conductor team to ensure we were implementing an overall solution that adhered to the needs of their modern HR practices," said Keryn Basl, Manager of Strategic Partners at Good Egg. "Candidate engagement is super important to them and everyone at Conductor loves how accessible the Good Egg Candidate Success Team has been with their applicants."
---
THE RESULTS
Good Egg provided an integrated solution that didn't require any technical resources from the Conductor side, which wasn't surprising, since Greenhouse is well designed and makes integrations incredibly straightforward. Good Egg consistently hears great feedback from Greenhouse customers and Good Egg always strives to deliver the same positive experiences with their own services.

"We're always eager to work with companies who use Greenhouse because we find they put candidate experience above all else, which aligns with Good Egg's vision," said Barnych. "Greenhouse truly values what their customers have to say. They act on and implement ideas, all in an effort to continuously improve their product. They've quickly become a leader in the ATS space and Good Egg strives to disrupt the background check industry in that same way."
Other results for Conductor include:
Enhanced candidate experience: Candidates remain fully engaged in the background check process, thanks to auto reminders and readily-available status updates, and they get to experience everything right from Greenhouse's intuitive dashboard.


Incredibly responsive Customer Success Team: Candidates can also rely on Good Egg's incredible customer support through text, email, or phone (the candidate decides which form of communication is best for them).


One login, one streamlined system: HR can now initiate the background check, view the status, and access the results directly from the Greenhouse platform without having to log into the Good Egg portal.


Decreased time-to-hire: The new-and-improved process has decreased Conductor's time-to-hire and reduced redundancies within the hiring workflow. In fact, background checks that are initiated via text complete 76% faster than email!


Increased visibility for candidates: Now, candidates can see exactly where they are in the process from one streamlined dashboard. No more juggling multiple logins or dealing with fragmented information.


Six-star customer service that never stops: Just because the integration is complete, that doesn't mean Good Egg's customer service ends. Conductor has a dedicated Good Egg account representative who is always available to answer questions and make suggestions.
"We're thrilled with the results!" said Cohen. "Greenhouse and Good Egg have the same partner mentality we were looking for and their technology offers a truly seamless workflow."