GOAL
Faster, more efficient recruitment and onboarding

COMPANY SIZE
500-1,000 employees

THE CHALLENGE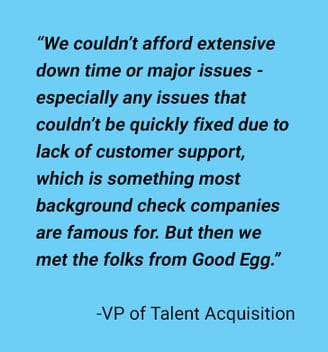 When you have a national presence with locations throughout the U.S., employee recruitment and onboarding can be challenging. You need speed. You need accuracy. And you need a smooth workflow that doesn't stall and stutter, especially during the applicant screening process.
Too often, however, that's exactly what happens. Instead of being able to focus on recruiting top talent, you have to stop and chase down your background check vendor.
That's exactly the issue a VP of talent acquisition recently faced at her national law firm.
The VP says, "My team's job is to recruit the best and brightest to our firm. We should be spending most of our time focusing on people—their skills, their talents, their backgrounds—rather than keying in applicant data in multiple places or chasing down info for background checks."
The candidate experience is of the utmost importance to this firm as well. The VP continues, "We care about our employees, and the first experience a prospective employee has with us is through the recruitment process. We want it to be a positive experience, not confusing or annoying."
"We'd never done an integration quite like this before," she says. "We couldn't afford extensive down time or major issues—especially any issues that couldn't be quickly fixed due to a lack of customer support, which is something most background check companies are famous for. But then we met the folks from Good Egg."
---
THE SOLUTION
"From the get-go, Good Egg impressed us," the VP says. "They took the time to get to know our business, our hiring process, how we use iCIMS, and our goals. They delivered a true partnership 'vibe' from the very beginning. Any lingering concerns I had about a lack of customer support were gone."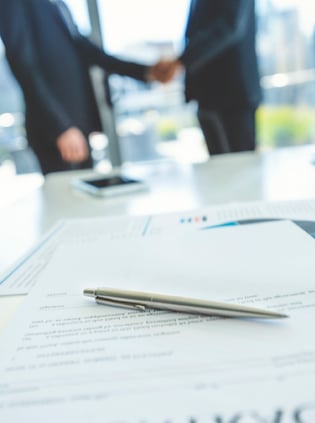 All Good Egg customers have their own dedicated account manager—someone who is the "go-to" person on a day-to-day basis. But for customers who want to integrate Good Egg with their ATS, Good Egg also provides a team of experts to guide the integration process from start to finish.
Good Egg values its partnership with iCIMS in particular and loves working with the iCIMS system. "iCIMS is powerful software, yet it's built to allow for smart integrations with companies like Good Egg," says John-Paul Barnych, Good Egg's Vice President of Sales. "The partnership between Good Egg and iCIMS is critical to successful integration."
The VP echoes this sentiment. "I was impressed with Good Egg's approach to integrating its system with iCIMs," she says. "It was extremely thoughtful and thorough. They took a deep dive into our recruitment and onboarding process. They learned how we were currently using iCIMS and what we wanted to gain from the integration."
From there, the Good Egg team created and implemented a project plan so that everyone involved in the integration was on the same page every step of the way during the integration process.
"Clear communication is essential," the VP says. "Good Egg was—and continues to be—great at communicating with my team and me."
---
THE RESULTS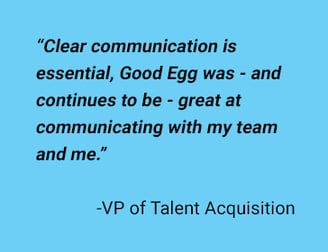 Good Egg provided an integrated solution with no client coding or IT resources required on the law firm's end. The resulting integration is intuitive, easy to use, and optimized for mobile.
"We love having a single interface with one login," the VP says. "No more juggling between systems and losing valuable time during that shuffle. No more needing to input applicant data from the ATS to the background check—it's entered once and done, and we can trigger the order all from the same place and see the status of our orders in real-time. This allows my team and me to focus on making more informed hiring decisions."
As for the candidate's experience? The VP says the resulting integration provides exactly what she was looking for: a smooth, streamlined, improved experience for each applicant. "They can do everything from their phone and they only have to provide information once. Plus, Good Egg is great at holding candidates' hands during the background check process, which can make people nervous, even if they have nothing to be nervous about."
Further results include the following:
Boosted efficiencies, decreased time-to-hire: The VP says the Good Egg team maximized the integration between Good Egg and iCIMS, identifying ways to eliminate redundancies and further streamline workflows. This increased efficiencies while reducing time-to-hire.
Increased visibility for applicants: Now, applicants can see exactly where they are in the process, and all from the same dashboard. No more juggling multiple logins or dealing with fragmented information.
Six-star customer service that never stops

: Just because the integration is complete, that doesn't mean Good Egg's customer service ends. "Our account manager regularly checks in, and, of course, whenever I have a question, she's incredibly responsive to our needs," the VP says.
Would you like to integrate your iCIMS with Good Egg and experience our six-star customer service?