GOAL
Faster and more thorough screenings

EMPLOYEE SIZE
2,500 employees

INDUSTRY
Non-profit healthcare

ABOUT INDIANA MENTOR
For over 30 years, Indiana MENTOR has been helping vulnerable populations thrive by offering home- and community-based assistance.
THE CHALLENGE
Reducing Time to Hire Without Sacrificing Quality
Prior to coming on board with Good Egg, Indiana MENTOR's time to hire averaged around nine business days. Essentially, a candidate would accept Indiana MENTOR's job offer, but would have to wait on the background check before starting work. This was due to a cumbersome process that often involved the previous employee screening vendor stumbling whenever it encountered an obstacle, like being unable to verify a reference's phone number.
Gerald Bush, HRBP at Indiana MENTOR, says, "Getting good people out into the community quickly is the key to successfully serving vulnerable populations. But it's also imperative we complete background checks that are thorough and accurate. We can't sacrifice quality for speed. After all, we're sending our employees into people's homes. So the challenge has always been, how can we do this quickly and well?"
---
THE SOLUTION
One way Indiana MENTOR recruits candidates is by holding regular interview days. During these sessions, it makes sense for job candidates to
submit their information on site so the background check can get started ASAP.
To accomplish this, Good Egg created an Indiana MENTOR-specific online portal that people access via a website link. Indiana MENTOR recruiters
can bookmark this link on office computers for easy access, or they can email/text it to applicants, as necessary.
When conducting interviews on site during interview days, Indiana MENTOR recruiters simply say to applicants, "Sit down at this computer, click this link, fill out the info, and submit your background check." This gets the background check started immediately with data entry driven by the applicant.

Once the recruiters are done interviewing for the day, they can then review all of the applicants' info through the online portal and choose whom they want to move forward with. This eliminates the burdensome multiple-step process they followed before, which involved interviewing, following up with the candidates they were interested in, and THEN requesting the info for the background checks. Now, the recruiters have all the information they need up front.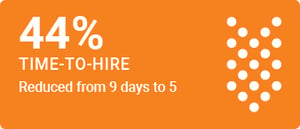 Mike Conlon, the Good Egg screening consultant who worked with Indiana MENTOR at the outset, says, "With this online portal, we can reduce the time to hire because there's no need for paperwork to go back and forth. Plus, there's no third-party HR person having to decipher an applicant's handwriting, trying to make out the social security number or phone number reference, while keying the info into the system. The Good Egg solution is streamlined, and seamless."
As a result, Good Egg has reduced Indiana MENTOR's time to hire by 44%–from nine business days to five, all while improving the overall quality of the process and customer service experience.

Gerald Bush says everyone at Indiana MENTOR is happy with Good Egg. "We're extremely pleased with the quick turnaround that Good Egg provides," he says. "The customer service is top-notch. The Good Egg team always views any challenges we lob their way from a 'customized solutions' lens rather than a cookie-cutter approach. I really appreciate that."
---
THE BENEFITS
In addition to better technology, Good Egg offers nimbler and more proactive customer service as well.

Kelly Bryan, who is on the Good Egg customer success team, notes that Indiana MENTOR has an understandably complex reference requirement.
Candidates can provide up to five references, with a minimum of three required. Two must be supervisors and one must be a professional associate, like a co-worker. In the past, Indiana MENTOR recruiters had to chase down these people with phone calls. But Good Egg now handles the verification process.

Kelly says, "Before Good Egg, the recruiters were losing so much time and resources on phone calls and all the effort it took to verify this important info. But Good Egg has changed all that. Now the recruiters can go back to doing what they do best: recruiting people for this worthwhile work."
Not only that, but Good Egg goes the distance when it comes to verification. Historically,
reference verification
can be challenging and often frustrating. But Good Egg always goes the extra mile—and always with a smile.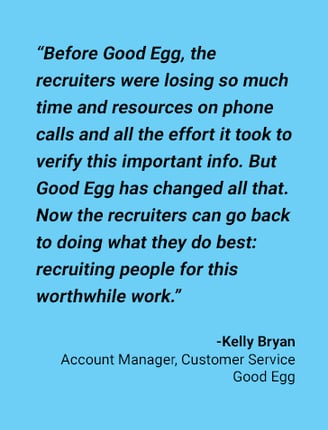 Mike Conlon explains, "For example, if a phone number is disconnected or we're not able to contact a reference, we'll reach out directly to the candidate to get additional information. Indiana MENTOR's previous provider didn't do that—they would instead go back to the HR person and tell them to call the applicant, which eats up everyone's time. By having our team proactively reach out to the candidate for additional info, we make life a lot easier for the HR person, which is our job."
No Disappearing Acts Here: Regular Meetings & Responsive Teams Keep Everyone Happy
Other background check providers are notorious for signing customers and disappearing. Not Good Egg. Clients have dedicated customer success reps, like Kelly Bryan. Kelly and her cohorts have regular check-in meetings with clients to review progress, processes, and make tweaks and adjustments, as needed.
Kelly says, "We've been working with Indiana MENTOR closely in our bimonthly meetings to standardize their turnaround time and reduce their time to hire. It's gratifying to see how much progress they've made in these areas. They've seen a huge improvement from what they were doing in the past."
Gerald Bush adds that he's pleased with how responsive and accessible Kelly is and that he's extremely confident in Good Egg moving forward. He says, "We're really happy here and wouldn't consider using anyone else."